The Last Universe ! [Gangs of Space Closing]
Posted by
Gangs of Space was our child and became the prison of our hopes. Gangs of Space was a stroke of madness that arrived one day, or maybe a night, in Tokyo, in the middle of an amusement arcade full of Shmup classics! Gangs of Space has been, indeed, quite an adventure!
But it is with much sadness that we announce today the upcoming end of Gangs of Space.
Closing schedule
November 30, 2018: commercial closure (end of the sale of the support packs on Steam).
May 31, 2019: official servers and support closed.
And after that? Total blackout? We are trying to find a way to keep the game playable, but we can not guarantee anything and in any case, it will be outside of Steam.
Why close the game?
Maybe one day Erhune will have the courage to write a long post-mortem on the development of Gangs of Space, but until then let's summarize the main reasons:
No money! Even after all these years of work on Gangs of Space, the launch in Early Access and the warm reception of tens of thousands of players, we have never been able to get any money from Gangs of Space for us. Not even a beer or a restaurant… nothing at all! We had made the choice to reinvest everything to self-finance the dev of the game (software, assets, hosting / server, freelance, administration, etc …). How did we manage to keep working for that long without going crazy? Maybe we already were from the beginning?!
No funding! Since it became clear the game would not make enough revenue with our current marketing reach, we tried to find investors to finance finishing the development of the game and promoting it. It took us a lot of time and energy, but in the end, even with a well advanced game and 70,000 players, it was too risky for them.
No communication! It's simple, in 2018 (and also in 2017), to have the mainstream media talk about your game, the norm is that either everyone is ALREADY talking about you, or you will have to pay. So sad when you're putting everything you have on the line to try to make "different" games that nobody wants to finance.
No more energy! In the end, all of this consumed our ultimate energy reserves. We will have tried many things behind the scenes, but now we have nothing left in us to keep moving us forward.
Commercial closure?
Because we do not want to sell a service that you do not really have time to use at your convenience, we prefer to stop the sales of the support packs after this announcement.
This allows us to provide another 6 months of service for the last irreducible who still want to enjoy their Gangs of Space.
Thanks
During all these years we met many people without whom this project could not have gone so far and who we wish to thank:
First of all, classic but important: thank you to our families! The relatives who supported us all these years without always understanding our determination to finish Gangs of Space, but still supported us with no judgment, no advice, but listening, love, and the good dishes of our mothers which kept us afloat in the darkest times of doubt.
Right after, thank YOU, you our dear 70,000 players! Whether you spent a few minutes or a few years in our company, you played and participated with determination! Your feedback has been decisive in the evolution of the game. To have made a game that will have you passionate, amused, relaxed, raging, will be our greatest pride forever. Thank you 70,000 times!

And thanks to those active members of the community who have been especially involved at all levels, wiki, moderation, community pillars, tools, passionate evening streamers, etc … (no names because there are so many of you, but your love will not be forgotten!)

-oTo-, our composer who kept with us all these years, and produced an incredible soundtrack that give so much life to the game!
Aganon, Skywilly, Bestio and Seldell, from the websites Jeuxonline, Game Side Story et Indiemag. If all the journalists and the streamers were all like them, there is no doubt the world of gaming would be full with far more original and interesting games!
And finally thanks to all people who crossed our road, all the devs, friends, streamers, visitors on a show, star (like Richard Garriot or Zun) who gave us a few minutes or a few hours of their time and contributed, in their own way, of shaping the Gangs of Space we have today.
Come and sign the Guestbook of Space!
The closing of an MMO is always a special moment. It is the opportunity for the old players to nostalgically recall their best memories. For the occasion, we have opened two "Golden Books" on the forum where you are invited to come and tell what Gangs of Space was for you. Your memories, your anecdotes, even a screenshot?
MINI FAQ
Why not making the game open source?
This is a good question and we have studied this option a lot, but it is a lot of work with a lot of legal issues. For example we are using many assets and tools that we have a commercial license for, but that we do not have the right to redistribute…
Why not sell the game to another company that can take care of it?
An MMO is a very complicated beast to sell, much more than a solo game. The purchasing company would need an inhouse development team with the expertise to continue the development of the game, and be able to provide support, hosting, community management, marketing… So unless your game is very big and you can talk to the big players that already have these people, nobody wants to take the risk of such an investment on their side.
All hope is lost forever?
It is almost certain that neither Erhune nor Grouroux will resume work on Gangs of Space at some point. But if one day a serious team wishes to work on Gangs of Space and shows us that they have the capacity to do it, we would of couese consider the option very seriously.
Soundtrack, Yogscast Jingle Jam 2017, and the future
Posted by
Long time no see, fellow Gangs of Space player! Here are some news from the the dev team, 4 months into Early Access.
Yogscast Jingle Jam 2017
Gangs of Space is part of the Yogscast Jingle Jam 2017, a charity bundle by Humble & the Yogscast. Every day until Christmas, they reveal new games for the bundle, and there is already a ton of great stuff to play! The bundle is sold for $35, and all the proceeds go to charity!
If you purchase the bundle, not only you will support good causes, but you will get a ton of games, including our very own Gangs of Space Yogscast Jingle Jam 2017 pack that contains a hangar slot, 50.000 Credits, and exclusive skins & titles.
So, what are you waiting for?
Soundtrack
For those who appreciate the work -oTo- has done on the soundtrack of the game, we have just released the complete Gangs of Space Soundtrack on Steam.
All 17 tracks available in high-quality 320 kbps MP3, playable inside Stream or in any music software!
The future of the game
As you might have seen, the activity on the Gangs of Space Early Access has slowed down considerably recently. The reason for this fact is very simple and unfortunate: Gangs of Space hasn't been making enough money for us to pay ourselves to continue working full-time on the game.
All the money from Steam sales is currently being used for the various administrative fees of running a proper company under French law, to rent the game servers & services, and to pay the contractors who kindly worked on the game with only a promise of revshare. We think this is the most fair way to use the money that you, our players, have entrusted to us: first of all, to make sure that the game remains playable; and then to make sure people who took a risk do receive a proper compensation for their work.
The unfortunate side-effect of this situation is that we have to take a "proper" job to pay for our living expenses, since we - ourselves - are not making any money from the game. This is obviously having a big impact on how much time and energy we can put into the game. The current plan is to make a proper release in early 2018. We won't be able to create all the content we wished for the game, but at least we plan on adding a few things, and fulfilling the promises we made to our early supporters.
As for the servers, we are allocating all the remaining budget of the game to ensure they will run for as long as possible.
We understand these are not the kind of news you wished for, and it is also a disappointment for us. We had dreams of hiring a team to continue working on the game for the years to come. We put literally years of efforts into this project, along with all our savings. But in all likeliness, unless a lot more players discover the game, the game will be released in a state close to the current one.
Even though Little Big MMO was our attempt to make a living out of our love for space games, we are proud to have released a game that can proudly stand on its own in the Steam catalog, alongside other games developed by teams 100 times bigger than the two of us. Many players tried the game and found something interesting, new, challenging… So far the biggest complaint we hear is that you want more content, and even though we won't be able to provide that much of it, that is still a proof that Gangs of Space resonated with many of you.
Thank you for joining us in this crazy adventure!
Erhune & Grouroux
8 new Skins to collect
Posted by
With the start of the Sixo Vaporis galaxy, we have added 8 new skins. All these skins are linked to special codes that you can activate in your account management area. The Skin code hunt is open!
Lord British & Lord Chaos
These two skins are a tribute to Ultima Online and two of its creators: Richard Garriott and Starr Long. They refer to the two characters they incarnated: Lord British and Lord Blackthorn. So if you meet one of these ships, maybe you have the chance to meet a legend (Richard Garriott is also an astronaut)!
How to get this skin: No idea, but they have codes and can do what they want
Drifting Lands
Drifting Lands is a SHMUP Hack'n Slash graphically superb and with very interesting game mechanics (the auto-warp is inspired by one of their system). And to make this skin, Alkemi Games has agreed to share with us the sources of the Marauder with which we made an original "module"!
How to get this skin: I have heard that there will be code available in the Steam forums of the game…
monsieursapin
monsieursapin is a very nice french Streamer who loves to discover games in all styles to his joyful community. It was very fun to make this skin "sapin" which was also the name of the first enemies that we had in the first prototype of Gangs of Space!
How to get this skin: Watch it live on his channel https://www.twitch.tv/monsieursapin
Bestio
Bestio is THE streamer of Shmup in France. Big fan of bullets and Hack'n Slash, he fell very early on Gangs of Space and followed us all these years. This skin is like a big thank you to him for his passion of games!
How to get this skin: Watch it live on her channel https://www.twitch.tv/bestiyo
IndieMag
Indiemag.fr is a french website devoted to independent games. He has always followed the evolution of Gangs of Space. Seldell, one of the creators of the site, is a fervent defender of independent games for years.
How to get this skin: By going to see this page maybe
Game Side Story
GameSideStory is the indie press of the video games. For years they have been talking about it with passion and without pressure. This crazy team has already tested over 2013 games, so that they all have a chance to exist. And that, it deserves a special skin!
How to get this skin: You need to work on GSS editing, ask Skywilly!
Isaac
The Binding of Isaac by Edmund McMillen is one of our cult games that has greatly influenced the latest version of Gangs of Space. But all the work of McMillen is incredible and we wanted to pay tribute to him with this very weird skin.
How to get this skin: no idea, no answer from him for now. :'(
How to use codes?
Log in to your account management and enter the code at this location:
Death to the permadeath & patch 0.31.11
Posted by
Death to the permadeath!
Gangs of Space has been designed from the beginning to be a permadeath game (even before we introduced the "roguelite" elements like subsystems; our inspiration is taken mostly from old arcade games).
Even though we - and many players - like it this way, it is true that losing a ship can be a demoralizing experience for a new player. So today, we're introducing a permadeath protection designed to help beginners without changing the fundamental high-level game for experienced players.
From now on, newly built ships will be equipped by default with a new passive item: the Auto-Warp. This item warps you back automatically to the Motherbase when you would have taken a fatal hit, but it comes with a few drawbacks:
since it is a passive item, you cannot equip another item that would have given you nice passive bonuses;
it lowers all Sector Points (SP) and Credit gains by 25%;
it prevents you from warping to T5 or T6 systems.
You can remove this item at any time (and we encourage experienced players to do so!), but it will be destroyed in the process.
New base skins
To add some visual variety, all ships are now created randomly with one out of 3 base colors.
Of course you can still customize your ship at any time (for free) in the Skin Shop.
10 new music tracks!
Alex, the composer of the soundtrack of Gangs of Space, has been touched by all your positive feedback about his compositions. So he has graced us with 10 more tracks, which triples the amount of music we now have in the game!
You can discover these new tracks everywhere, from an alternative Motherbase ambiance to different music for all 6 tiers, and even some music on the death screen! (another good reason to un-equip your Auto-Warp!)
Patch 0.31.11
As usual, all the details of the patch are available in the changelog.
A wiki full of treasures
Thanks to a growing team of motivated players, the Gangs of Space Wiki is now full of useful information:
Items, ships, subsystems, drops, enemies… all there, ready for your eyes!
There is still a lot of translation work though, so if you speak another language like Spanish, Russian, Chinese, German, Portuguese… then join the Wiki team on Discord! You will be more than welcome!
A new Conquest: Cinquo Vaporis Galaxy
The Empire has started the construction of a new Motherbase in Cinquo Vaporis Galaxy. Enemy forces have been evaluted to about 17,000,000. Get ready for the cleaning, and maybe the Empire will reward the most valorous of you!
Summary of the previous Conquest
Shark Investor Pack
The Imperial Bank has computed dividends for the conquest of Quatro Vaporis Galaxy. Each Share will be awarded dividends of 168 Credits, for a total of 8,400 Credits for the 50 Shares of the Shark Investor Pack.
Ladders
Congratulations to all players that exterminated the Pirnat faction in 1 week, 12 hours, 18 minutes, and 7 seconds.
The players and Gangs that will receive Imperial awards for this Conquest are:
Souvenir
A last glimpse of Quatro Vaporis Galaxy accompanied by a group picture of the winning Gang:
End of third conquest & patch v0.31.9
Posted by
Hello everyone! Here is your now-habitual point on the recent activity in Gangs of Space…
END OF THIRD CONQUEST
Galaxy Tertio Vaporis has been conquered in 10 jours, 11 hours, 1 minute et 6 seconds!
On the ladder side:
DJOKKATAJA wins the TOP GRIND with a very impressive score of 1,174,894 SP. A new record! But Zed is just behind… on purpose, maybe?
Because on the TOP SKILL side, Zed improves his previous best score, and reaches almost 33K SP/h! Jhirin and kragnir beat their previous records too, but it wasn't enough this time.
On the TOP GANG, 8-bit Warriors get their first victory, pushed by their leader and their very active members. They almost reach the previous record set by Meta in the previous Galaxy!
SUMMARY
During this Conquest, we have banned 15 accounts for cheating. We remind everyone that modifying the game client or the game memory is forbidden by our Terms of Service. It is a question of common sense: let's keep a pleasant environment for everyone to play and compete in!
The wiki.gangsofspace.com grows bigger and bigger, with new info coming every day, and translations in French and Russian starting to pop in. If you can write decent Chinese, Polish, Spanish, Portuguese, German, Japanese, or any other language spoken by a part of the Gangs of Space community, why not contribute to the effort?
On the Steam side, we celebrate today our 1 month release anniversary! With 10 versions published during this period, almost one every 3 days! On your side, you've left 216 evaluations, 78% positive. Thanks a lot!
RECENT PATCHES
We are pushing a lot of small updates these days, of course to fix problems that have been reported to you, but also to improve the way we convey information in the game. We're very happy to see that the community has stepped in to help newbies understand the game better, but we need to do our part, and make the game more easily understood!
We have also worked a ton on "invisible" tasks in the background, including server optimization. If you haven't tried v0.31.8, you'll be surprised by how much pleasant the game is to play without all these pesky server lags that plagued us since the release!
Today, along with the new Conquest we are releasing v0.31.9 that revamps the ingame ladder interface, and a lot of quality-of-life improvements. Check out all the details in the changelog!
SHARK INVESTOR PACK
How many dividends will our Shark Investors earn for the conquest of Tertio Vaporis?
The latest data from the Imperial Bank shows that each Share will receive a dividend of 312 Credits, which means 15,600 Credits for the 50 Shares of the Pack Shark Investor.
SOUVENIR
Thanks to kragnir for remembering to take a end-of-galaxy souvenir picture, since we couldn't be there on time to take one. Bye bye Tertio Vaporis!
End of second conquest & patch v0.31.5
Posted by
Congratulations all, you have eliminated 15,000,000 Pirnats points in 7 days, 6 hours, 13 minutes and 30 seconds!
OVER THE TOP
Without further ado, let's examine the top of the ladders:
On the TOP GRIND, Zed sets a new record with 576k SP. Congratulations!

On the TOP SKILL we also find Zed. It's the proof of a great talent! With 27k SP/h, he will be quite the challenger to beat. Will kragnir, Jhirin or Brotspinne, who also show promising results, manage to reach his level?

The TOP GANG, has been swamped by Meta who entered the competition and left no hope to the other Gangs. With 1,484,800 CP, they have annihilated almost 10% of the Pirnat forces all by themselves! Our previous champions Esports drop to #4, while the 8-Bit Warriors show great promises for the future conquests!
SUMMARY
We have seen a few cheaters emerge during this Conquest. It is unfortunate to have to spend our very limited time and efforts to prevent them ruining the gaming experience of the community. We want to use the opportunity to reming everyone that third-party hacking tools and client modifications are against our Terms of Use, and punishable by account ban. If you have doubt about what's allowed or not, you can write us privately on contact@gangsofspace.com and we'll clarify the situation.
On a more positive note, thanks to the efforts of the Discord community, the work on the Gangs of Space wiki. Come have a look, and maybe help the writing or translation efforts if you can!
And finally on the Steam side, we have reached 180 evaluations. Your honest opinion is always appreciated, and can help other players to better understand Gangs of Space!
PATCH 0.31.5
Here are the main changes of the new version, along with the start of the new Conquest:
Collected Credits and blue DNA strands have been re-designed visually to be more readable.
Private messages have been re-enabled: use /w
Some balancing to the Astrolax class:

The energy cost of S-Link has been adjusted to the one of Y-Link.
Structure Wave radius has been greatly increased.
The Stolers armaments now also provide a significant passive damage bonus.

Kamikazes Hunter spawns have been limited in T4 and T5 systems.
Many bug fixes and various small improvements.
For all gritty details, you can read the changelog on the forum.
SHARK INVESTOR PACK
"End of Conquest" means "dividends time" for Shark Investor Pack owners!
The Imperial Bank has computed the total cost of the conquest of Secundo Vaporis Galaxy, and determined that each Share will receive a dividend of 369 Credits, meaning 18,450 Credits for the 50 Shares of the Shark Investor Pack. Thank you for financing our glorious Conquests!
Also note that the history of your dividends is now visible on your account management page on this very website!
SOUVENIR
A few shots of the last moments in Secundo Vaporis Galaxy. See you in Tertio Vaporis!
End of the first conquest & patch v0.31.4
Posted by
Congratulations to all players and all Gangs: you conquered the Primor Vaporis Galaxy in 8 days, 7 hours, 36 minutes and 28 seconds!
OVER THE TOP
Let's have a look at the final ladders:
On the TOP GRIND, we have a new Commander imposing his style: Touch Me wins by a fair margin his title and his champion skin, with over 400,000 SP. Congratulations!
On the TOP GANG ! Esports get their first victory thank to a flawless teamwork. We say on the game Discord channel that this ladder was very fierce, and not only for the top 10 spots! Congratulations to everyone!
And finally, for the new TOP SKILL, Roix shows us that experience acquired over years of alpha versions still make him the top dog. With a peak of over 25k SP/h, he dominates the ladder by far.
With this first conquest on Steam Early Access, many new players have joined the ranks of the Empire and are learning all the mechanics of the game very fast. Next Galaxy should turn out very competitive indeed!
STATE OF THE GAME
It is for us a great emotion to see the servers so full of players all the time, for the first time of the existence of the game. From the bottom of our heart: THANK YOU! We've spent years working on this game, and seeing so many people enjoying it for real is giving us the energy to move forward with the game.
Speaking of moving forward, some words about our next steps.We are globally satisfied with the state of the game, but we have seen how hard it is for many players to understand the game, or some parts of it. We plan on putting a lot of efforts over the next weeks to improve the situation, and have already started to work on a FAQ here: https://www.gangsofspace.com/faq
The Discord community has also started to work on a wiki to give more details, with specific numbers for every aspect of the game. Join them if you want to help the effort!
Over the past week, we have been having between 150 and 250 players online almost all the time. This makes the universe alive, with always something to do. We had to fix a few things on the server side to handle the load. This invisible effort continues every day, and will probably continue all over the duration of the Early Access. Thank you for bearing with the small bugs and slowdowns, and be assured that fixing that is always at high priority on our list.
On the Steam side, we've passed 100+ evaluations with 81% positive. Don't hesitate to add your voice to the crowd, that's how more players will know about Gangs of Space!
PATCH 0.31.4
We have deployed v0.31.4 along with the opening of the new Galaxy.
The main visible change of this version is the complete overhaul of Credit gains. We changed the Conquest rewards in v0.30 a few months ago, and we were a bit too conservative on the gains of the new system. Now that we have more data to back up our design, we have increased the Credit rewards of conquest quite significantly, especially in lower Tiers.
We also added a feature where every time you unlock a new ship, you will gain the amount Credits necessary to build this ship. For example, when you unlock the Gemeter DX, you will now receive 10,000 Credits. We have applied this retroactively to all already unlocked ships.
For more details, you can read the complete changelog.
SHARE DIVIDENDS
If you bought a Shark Investor Pack, now is the time to figure out how many Credits your Shares have produced!
After a complex calculation by the Imperial Bank, we have determined that every Share will receive a dividend of 202 Credits.
But as a celebration of the first Conquest, and because the lowered Credit gains have impacted the amount of total Credits spent, we have decided to double this amount. You have thus received 404 Credits per Share, which means 20,200 Credits for a 50 Share Investor Pack.
Stay tuned for the next Conquest. Hopefully, with the increase of Credit gains brought by the new patch, dividends might rise even further!
A MMO IS A COMMUNITY BEFORE ANYTHING ELSE
Join the Discord or the forum. We are answering all your questions, and listening to all your suggestions for the future of the game!
SOUVENIR
A last memory of Primor Vaporis before leaving for a new adventure:
Steam Early Access release on August 10th!
Posted by
It is our great pleasure and honor to finally announce that Gangs of Space will be released on Steam Early Access this Thursday, August 10!
Gangs of Space lived many lives and undertook many changes. We hope that the journey was an interesting one to witness, even though it was way longer than everyone could have expected - us included!
You can already access the Store Page, wishlist the game, and join the Steam Community too!
Free to Play & Packages
So… Let's take a moment to explain the definitive pricing model of Gangs of Space.
The game will release as Free to Play. Everyone will be able to download it on Steam, and access the entierety of the game content (all items, all ships, all enemies, all areas…). The only "limitation" for free account will be inventory & Hangar space: 10 item slots in the Warehouse and 2 ship slots in the Hangar. This is very reasonable to discover the whole game.
If you want to support the development of the game, we will sell 3 packages as Steam DLCs: $10, $30 and $60 (or the equivalent in your country's currency). These packs will contain Warehouse & Hangar slots, exclusive Skins, Credits, and a few bonuses like titles or the ability to name some content of the game.
Here is a visual summary of the content of all 3 packs: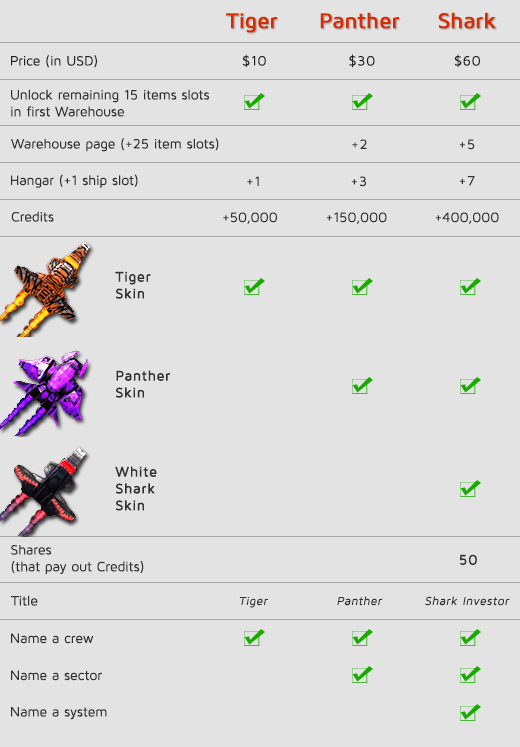 As you can see, we don't want Gangs of Space to have any Pay-to-Win elements, or become a virtual casino: no powerful exclusive items, and no keys to unlock random loot boxes
Spread the word!
Whether you are a Gangs of Space fanatic or are just having some casual fun from time to time, we hope that the game will continue to bring you some good time.
And since the game will be completely free to enjoy, don't hesitate to send this page to all your friends, and create a Gang together: Gangs of Space on Steam.
End of Alpha 0.30
Posted by
Unscrew your guns, unplug your shields, clean your warehouses... the Alpha 0.30 session is over.
How it went?
We are very happy with the results of this session. A lot of you came to play, and seemed to enjoy the game quite a lot judging by the insane play times!
The competition for the ladders was fierce, and the game was much more pleasant to play than previous versions, in great part because there were always other people to play with. Finally, it felt like a real online game for more than a few hours!
We are definitely on track for the Steam release next version, and I think Grouroux and I will be able to sleep a bit better until then!
A few numbers
Connected players: 490
Peak players: 81
Average play time: 7 hours per player
Ships lost: 1,124
Pirnats killed: let me read that right... 1,900,926... well.. that's a lot!
Bosses killed:: 879
T1, T2, T3 systems conquered: 844
T4 systems conquered: 180
T5 systems conquered: 36
T6 systems conquered: 24
Total DNA collected:: 1,594,887,370
Total Credits collected: 3,153,863
Best crew: level 47
Your opinion matters a lot!
More than ever, your feedback is important to us, especially fom new players (or those who didn't play for a long time).
What kind of game did you expect BEFORE playing, and AFTER playing? (you can cite other games you find similar...)
How smooth was levelling your first ship to level 10?
Did you have trouble figuring out some game mechanics? what would you have liked better explaied to you?
What did you like and hate most?
Did you feel discouraged at some point? did it make you stop playing?
You can answer in the forum, on Discord or even by e-mail if you are shy. We're reading everything, even if we don't have time to give detailled answers to everyone! Promised!
Alpha 0.30 - The Empire has prevailed!
Posted by
Congratulations to all players and Gangs: you exterminated the Pirnat faction of Galaxy Alpha-30 in exactly 4 days, 22 hours, 59 minutes and 32 seconds!
PLAYER TOP
On the individual side, Roix get his first title of Champion! Now, after participating to many Alpha sessions, he can finally backup his very famous "modesty" with some real achievements
Tigibon, a returning "old" player, came back staight to the second position. We checked our records, and it seems he's our longest still-active player!
Robokami reaches third place, and proves that Gangs of Space can be mastered to the highest levels even by a new player.
At fourth position, the leader of HowlingDragons Ernislav leads the group of 6 players that fought vaillantly and came pretty close to the podium. With barely 10,000 points between the #5 and #10, the competition was really intense!
GANG TOP
On the Gang side, the fearsome HowlingDragons earn their first place after a very intense battle against their rivals. Even though they didn't place any player in the player top 3, they showed that for the Gang ladder, it's actually teamwork that prevails. Congratulations to them!
Thanks to the good individual performance of their members Tigibon and Robokami, Les Cochons Volants reach a very close second place. Mark their name, we will probably see them again in future Galaxies!
In third position, Supremacy Inc are pulled by the performance of their most active member Roix.
Then, the thanatonautes managed to place two members in the individual top, but it wasn't enough to close the gap with the other 3 "big" Gangs and reach the podium. They stop at a very honorable fourth position, along with 5 other valliant Gangs.
END OF SESSION
We have been a bit caught by surprise by the sudden acceleration of the conquest after a few days, so we have decided to leave this Galaxy open until Monday, June 26.
For now, the game will continue to be playable normally, and the ladders will continue to update, but no further rewards will be given to top players & Gangs for this session.
REWARDS
We have given the skin rewards to individual players in the top 10, and to all members in top 10 Gangs. Send us pictures of your most beautiful ships in their new shiny paintings!
Title rewards will be coming at the end of the session.
YOUR FEEDBACK IS PRECIOUS TO US!
We've received a ton of very useful feedback from you. Keep it coming! We need to make the next version the best one ever, to storm the world with our Steam release!
You can find us on:
- Discord (along with many helpful players)
- Twitch, if you want to follow the creation of the game piece by piece
- Twitter
- GoS forum
Thank you all for your participation! It has been great to see you enjoying the game these past few days, and it seems we are on the right track!
Sisyphus Medior
Started: January 7, 2022
Ended: November 1, 2022
Enemy forces in this Galaxy:
| | | | |
| --- | --- | --- | --- |
| Pirnat | | | EXTERMINATED |
December 6th, 2023 21:58
#
| | Player | Sector Points |
| --- | --- | --- |
| #1 | Save | 32,987 SP/h |
| #2 | Strega | 24,139 SP/h |
| #3 | Jakala | 19,570 SP/h |
| #4 | JayJayYT | 19,230 SP/h |
| #5 | German Elite | 16,818 SP/h |
| #6 | rymeilema | 16,356 SP/h |
| #7 | free cookies | 14,669 SP/h |
| #8 | 0406 | 11,108 SP/h |
| #9 | CaptNight3 V3 | 10,871 SP/h |
| #10 | Joe Void | 9,264 SP/h |
| | Gang | Conquest Points |
| --- | --- | --- |
| #1 | Save Game 1992 | 1,212,638 CP |
| #2 | Storm Pirates | 352,668 CP |
| #3 | Acrylic Dream | 163,820 CP |
| #4 | UNS | 161,461 CP |
| #5 | imdie | 90,963 CP |
| #6 | 0O0 | 86,454 CP |
| #7 | I go Solo | 74,957 CP |
| #8 | Mew gang | 66,362 CP |
| #9 | Flying Dutchman | 59,475 CP |
| #10 | GoS Forever | 45,371 CP |